Marta Szymkowiak

I'm a polish product designer based in Milan.
Born in 1988 in Jarocin in Poland, I've earned a degree in Design (focus on Furniture Design) at the University of Arts in Poznan (PL) in 2012, and subsequently moved to Milan.
In 2014, I've co-founded the design and communication studio BestBefore2065 (www.bb65.com).

Present position
BestBefore2065 /// Co-founder and Product designer
Clients: Horm.it, BluBleu, Casio, G-Shock


2018 /// Studiopepe /// projects for:
Baxter : Zefir Chair and Thalatha Table
Vetreria Bazzanese : Oh! You Pretty Thing! - Mirror
2014 /// Saverio Incombenti /// projects for:
Mogg : QB Quanto Basta - Containers
2012 /// jozeph forakis ... design /// projects for:
Samsung : CMF project
Normann Copenhagen: Lounge Chair
2011 /// Hiroshi Ono & Associate /// internship


Awards
2013 /// Finalist of 5th Edition of Roca International Design Contest Jump the Gap
2012 /// Laureate in Young Design Contest by Institute of Industrial Design, Warsaw (PL)
2010 /// III Prize ELECTROLUX DESIGN LAB polish edition



Education
2012 /// Graduation in Product Design / final project in furniture design
2008 - 2012 /// University of Arts in Poznań (PL) / Faculty of Architecture and Design
2009 - 2010/// University of Applied Sciences of Potsdam (DE)/ ERASMUS Exchange program
2004 - 2008 ///Art High School in Poznań (PL) / specialisation Visual Communication


BB65 /// MANET Easy Chair
I've designed MANET easy chair as the first product developed and commercialized by my studio, BestBefore2065.
MANET is an easy chair aiming to re-create that feeling we have when we're spending time in the open air. On MANET, as on a meadow, you're free both to lay or sit: reading, taking a nap or just sitting are always very personal experiences while staying in-between the chair's soft "stems".
Visit the product website:
maneteasychair.com
MANET is entirely manufactured in Brianza area (Italy) by qualified artisans.



The rigid and geometric look creates a funny and unexpected contrast with the softness of the seat.



The user has the freedom to move, turn or remove every single pillow, always finding the desired position and always creating a "new" seat.
Pillows linings are made in fabric (100% polyester) removable and washable. The box is made out of MDF and it is covered with a soft synthetic leather with antimicrobial and antiacarus treatment, which determines durable hygienic freshness.



For commercial enquiries please contact:


product@bb65.com


︎
BluBleu /// Collezione "One Week"
"ONE WEEK", is a collection a of products I've designed for the Italian bathroom furnishing brand BluBleu. The collection is composed by a shower, which combines classic shapes with unusual materials (such as polycarbonate simulating a shower curtain), and a solid surface washbasin. The two object share common lines, such as the oval shape of the basin and the black iron band. The collection is completed with Yuma bathtub, a pre-existing product.The ONE WEEK collection has been unveiled at prestigious CERSAIE 2017 fair in Bologna (Italy), as one of the four new collections by BluBleu and demonstration of the brand's new course and philosophy.
The self standing shower from ONE WEEK collection won
Archiproducts Design Awards 2018
in bathroom category.
One Week has been released during Cersaie 2017 in Bologna.

︎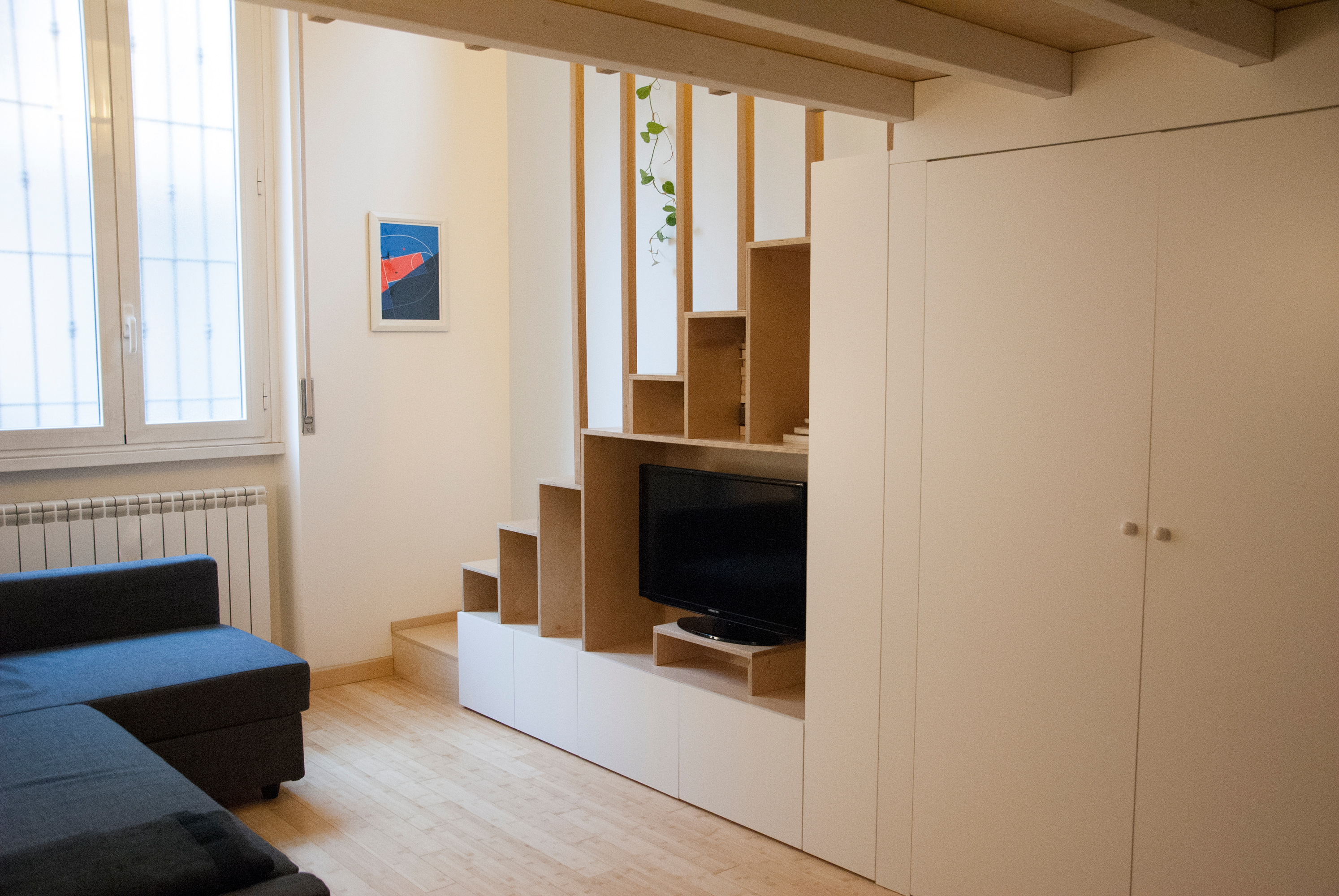 Cozy Home Milan /// Mezzanine
This mezzanine was designed for a jung couple living in Milan.
The aim was to improve space utilization in a small but high-ceiling room of their apartment.
The challenge was to fit the bedroom, the living room and wardrobe all in one space, without renouncing to the commodity and functionality of each area.
The key to do that was to design a multifunctional stairs, featuring a comfortable steps rhythm and some shelves underneath those steps. That space is then used as library, TV cabinet and for storaging various objects. Two spacious wardrobes are continuing on the same line.
A cozy bedroom is located upstairs, and it is separated from the rest of the room by a frame wall. This characteristic but light structure is used also as a railing for the stairs, connecting optically the two levels.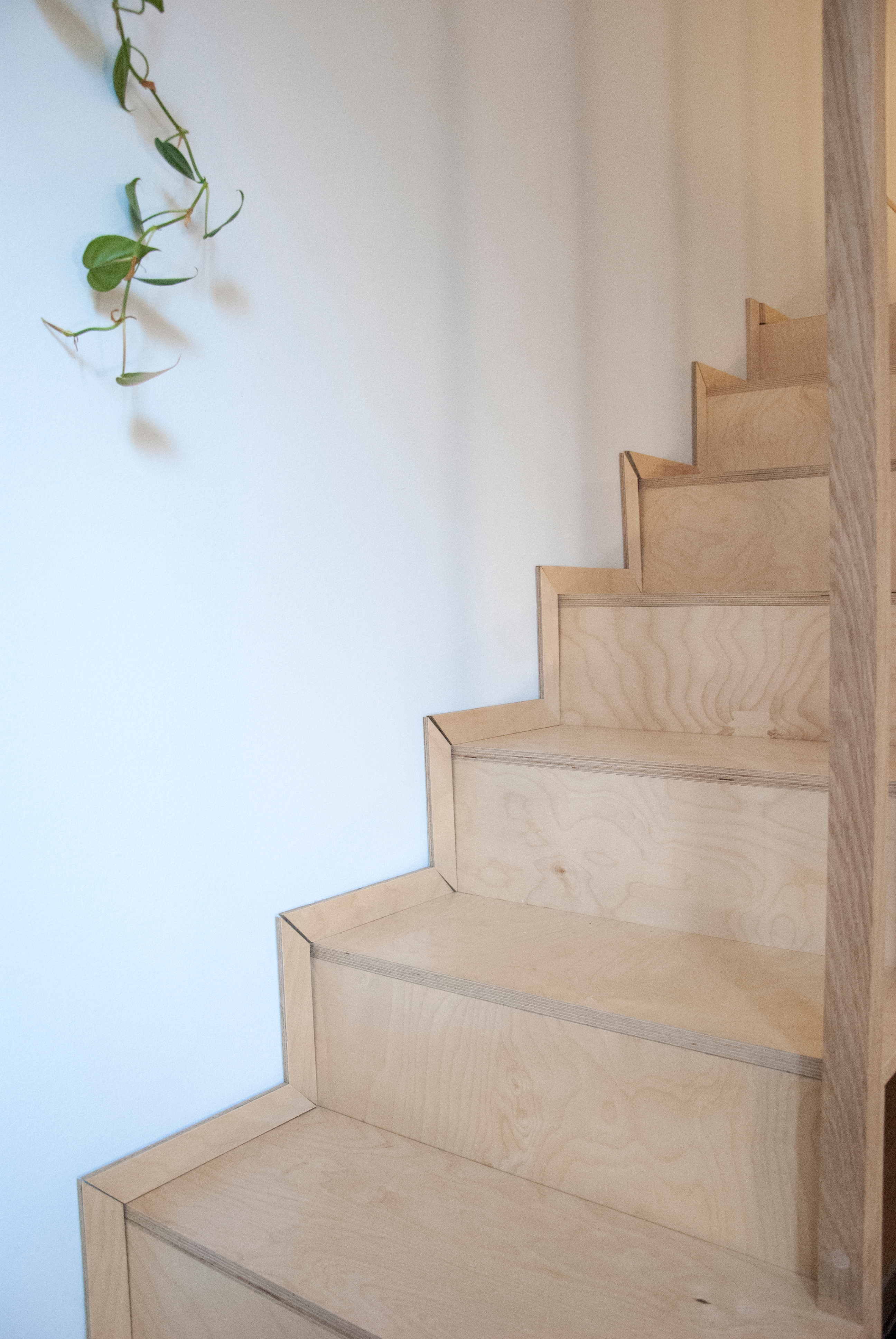 Roca /// Lift Bathroom Concept
Lift is a smart solution to have and enjoy all the water services of the traditional bathroom (shower, sink, etc.) using the minimum amount of space.
In this way it is possible to pass from a normal sink to a "low position" sink for kids and washing feet, or to an "upper position" for a quick hair wash and to an even higher position to enjoy a comfortable and barrier free shower.
The idea is to develop a multifunctional sink that can be easily lifted up and pulled down by using a system of rails and an ergonomic handle.
This leads to a concept of bathroom that breaks the standards: the adaptive highness of the sink and the double function (showersink), both concur to create a tool which is good for any kind of user (tall and short) and for any kind of use (wash hands, wash hair, taking a shower, wash feet, etc.).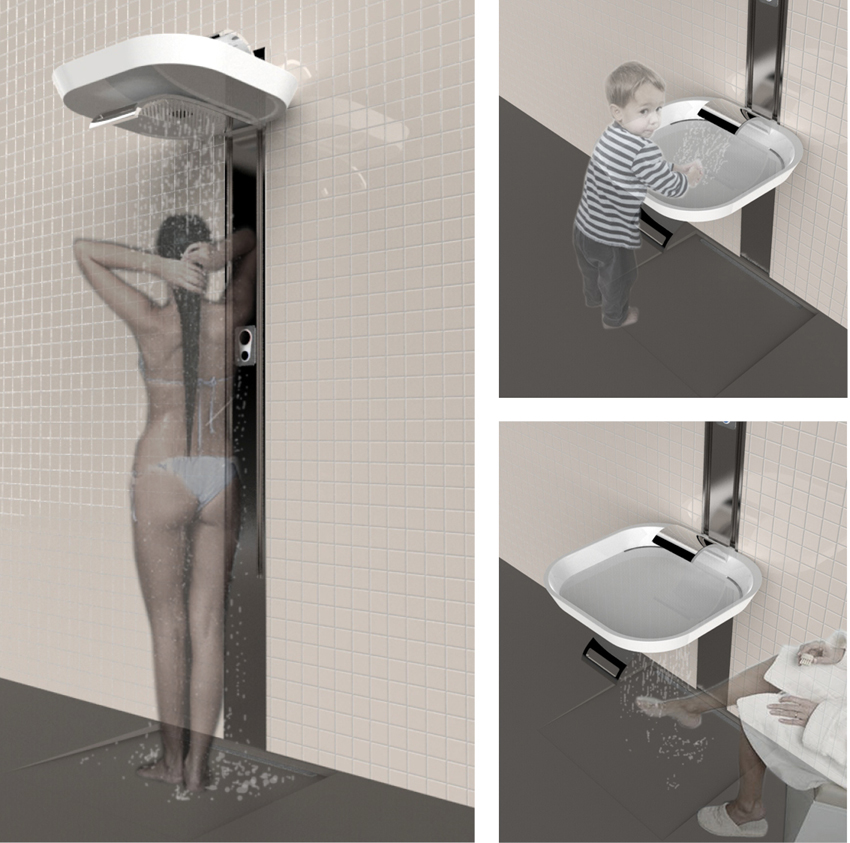 Water can flow trough two different taps, positioned above and below the washbasin.
The water pipe and the drain pipe are both flexible and integrated in the lifting system.


Lift was selected as a Finalist of Roca Jump the Gap in 2013.
︎